Regular price
Sale price
$3,051.00
Unit price
per
Sale
Sold out
Installation

We Offer Installation!
We are excited to offer installation services across most of the contiguous state of Texas. In order to obtain a quote, please email, call, or simply add the product of your choice to a quote, fill out a little information and be sure to check the box to request installation pricing. For installation, be sure the area is free of debris and any underlying issues that would make digging difficult.  Each customer takes responsibility for their own site prep, permitting, and mulch/surfacing unless otherwise arranged. We do not take responsibility for permitting — you should consult your local authorities or construction professionals as needed.

Can I Install This?While the short answer is yes, please be careful. We have had many customers install shades themselves leading to a resulting sagging & sinking structure which in turn led us to reinstalling it for them. However. with the right talent and equipment, it may not go as smoothly as it does for our professional installation crews, but it can be done as a budget-conscious solution for smaller projects such as residential! Please take note that installing a shade structure is a construction project. There will be quite a bit of digging and work to balance and set up your shade structure. Most people don't realize how involved putting together a large commercial grade structure can be.Mounting Options, Depending on the ProductWhen it comes to shade structures, there are a few options for mounting. Which one you choose generally depends upon your installation area and surface/soil.In Ground Mount– In Ground Mount is the most common system. That is when you bury the pole directly into the ground using rebar and concrete.Surface Mount– Surface Mount is mounted and bolted directly to a stable and solid surface. This approach would be ideal for a concrete pad or a pool area, for example. Anchor bolts and plates are generally required for this footer type.Uncommon Mounting Types – (We Can Quote Upon Request) – Recessed Mounting– Recessed Mounting is where the shade structure is mounted onto a concrete footer that is buried. Spread Footers– Used when there is an issue with the depth or soil in the installation area. The shade posts are not as long as with other mounts and requires more concrete and labor to install. Anchors– Anchoring to an existing structure such as posts, buildings, and roofs is only recommended for small tension projects.
Steel Specifications

Steel
All Reinforcement conforms to 60,000 psi ASTM A-42 Grade 60(excludes Super Spans and Tension
Cable Structures). Reinforcement steel, if required, is designed, detailed, fabricated and placed in
accordance with the latest ACI Detailing Manual (SP-66) and CRSI Manual of Standard Practice
Structural Steel
All steel tubing is triple coated for rust protection using the in-line zinc electroplating, Allied Flo-Coat®
process. Tubing is internally coated with zinc and organic coatings to prevent corrosion.
All structural steel plates are rust/corrosion treated by zinc electroplating. Steel tubing and plates are
finished with a minimum of 2.5 ~ 3.5 mil-thick UV-inhibited weather resistant powder coat.
Where size of structure or determined loads require larger structural steel members or steel greater than
7 gauge thickness, carbon steel may be substituted. Cleaning and coating of carbon steel conforms to the
following:
1. A de-greasing agent is applied to remove surface oil and grease.
2. An acid-phosphate wash be applied to etch and prepare the surface for powder-coating, where
wall thickness requires pre-heating.
3. Steel members are to be pre-heated prior to powder coat application to assure adhesion.
1. All carbon Structural Steel shall be ASTM A-36, except steel pipe columns, which shall be ASTM A-53,
grade B, unless otherwise noted. Slip fittings are manufactured using drawn-over-mandrel steel with a
minimum yield strength of 70 ksi and a minimum tensile strength of 80 ksi.
2. Steel telescoped sleeves do not have more than 1/16″ tolerance, with no less than 4″ overlap at all
sleeves. All internal fittings are welded on one side.
3. Structural steel is detail, fabricated, and erected in accordance with AISC specifications.
4. All shop and field welding is executed by certified welders in accordance with the latest edition of the
American Welding Society specifications.
5. Shop connections are welded unless noted otherwise. Field connections are separately indicated on all
drawings.
6. All welds are performed using E70 electrodes or gas-metal arc welding using ER 7053 wire. All fillet
welds are a minimum 3/16″ unless otherwise noted. All steel shall be welded shut at terminations to
prevent internal leakage.
Hardware
All structural field connections of the structure shall be designed and made with high-strength bolted
connections using ASTM A-354, Grade B or SAE J249, Grade 8
All stainless steel bolts shall comply with ASTM F-593, Alloy Group 1 or 2. All bolt fittings shall include
rubber washers for water-tight seals at joints. All nuts shall comply with ASTM F-594, Alloy Group 1 or 2.
Wire rope is 1⁄4″ nominal diameter, 7 strand, 19 wires per strand (minimum), with a minimum nominal
tensile strength of 9,000 pounds. Wire rope shall be secured with approved fittings and cable hardware, as
per manufacturers' specifications.
Warranty

Statement of Limited Warranty:  

•The structural integrity of all supplied steel is warranted for 5 years.  •If assembly is provided by the Company, workmanship of the structure is covered for one year, including labor for the removal of any failed part, disassembly (if necessary), cost of shipping, and reassembly. •All steel surface finishes are warranted for one year. •Gale Pacific Commercial 95™ fabrics all carry a ten year limited manufacturer's warranty against failure from significant fading, deterioration, breakdown, outdoor heat, cold, or discoloration. Should the fabric need to be replaced under the warranty, the Company will manufacture and ship a new replacement fabric at no charge for the first five years, thereafter pro-rated at 20% per year over the remaining five years. The following are exceptions to the preceding warranty terms:•Individual fabric tops measuring greater than 40' in length are covered by a non-prorated five year warranty;•Serge Ferrari Soltis 502 waterproof membrane is subject to an eight year pro-rated warranty.•Sewing thread is warranted for ten years. •These limited warranties are effective from the date of sale, or, if assembly is provided by the Company, from the date of the invoice.  •In its sole discretion, the Company will repair and or/replace defective structures, products or workmanship, or refund that portion of the price related to the defective product, labor, or service rendered.  •The Company reserves the right, in cases where certain fabric colors have been discontinued, to offer the Purchaser or Owner a choice of available alternative colors to replace the warranted fabric. The Company does not guarantee that any particular color will be available for any period of time, and reserves the right to discontinue any color for any reason, without recourse by the Purchaser or Owner of the discontinued fabric color. •Should the Purchaser or Owner sell the structures to another party, the warranty cannot be transferred to the new owner without a complete and thorough on-site inspection performed by a Company representative. Please contact the Company atsupport@maxshade.com for more details. •All warranty claims covering Company supplied structures, products, and services must be submitted by Purchaser or Owner in writing to the Company within thirty days from the date of discovery of the alleged defect and must include a detailed description and applicable photographs of the alleged defect or problem. Warranty claims should be submitted by email tosupport@maxshade.com. •Purchaser or Owner agrees that venue for any court action to enforce these limited warranties shall be in the City or County of Dallas in the State of Texas, USA. •These limited warranties are void if:•the supplied structures, products, services and/or labor are not paid for in full; •the structures are not assembled in strict compliance with Maxshade specifications;•any changes, modifications, additions, or attachments are made to the structures in any way, without prior written approval from the Company. Specifically, no signs, objects, fans, light fixtures, etc. may be hung from the structures, unless specifically engineered by the Company.•These limited warranties do not cover defects and/or damages caused by:•normal wear and tear;•misuse, willful or intentional damage, vandalism, contact with chemicals, cuts and Acts of God (i.e. tornado, hurricane, micro/macros burst, earthquake, wildfires, ice storms etc.);•snow or wind loads in excess of the designed load parameters engineered for the supplied structures;  •use, maintenance, neglect, repair, and/or service inconsistent with the Company's written care and maintenance instructions, provided with the order.•The limited warranties explicitly exclude: •workmanship related to assembly not provided by the Company or its agents; •fabric curtains, valances, and flat vertical panels; •fabric tops installed on structures that were not engineered and originally supplied by the Company.•THE COMPANY SHALL NOT BE LIABLE FOR ANY INCIDENTAL, CONSEQUENTIAL, SPECIAL, LIQUIDATED, EXEMPLARY, OR PUNITIVE DAMAGES, OR ANY LOSS OF REVENUE, PROFIT, USE OR GOODWILL, WHETHER BASED UPON CONTRACT, TORT (INCLUDING NEGLIGENCE), OR ANY OTHER LEGAL THEORY, ARISING OUT OF A BREACH OF THIS WARRANTY OR IN CONNECTION WITH THE SALE, INSTALLATION, MAINTENANCE, USE, OPERATION OR REPAIR OF ANY PRODUCT OR SERVICE. IN NO EVENT WILL THE COMPANY BE LIABLE FOR ANY AMOUNT GREATER THAN THE PURCHASE PRICE FOR ANY PRODUCT OR SERVICE PROVIDED BY THE COMPANY.•THE FOREGOING LIMITED WARRANTY IS THE SOLE AND EXCLUSIVE WARRANTY FOR THE COMPANY'S PRODUCTS AND SERVICES, AND IS IN LIEU OF ALL OTHER WARRANTIES, EXPRESS OR IMPLIED, IN LAW OR IN FACT. SELLER SPECIFICALLY DISCLAIMS ALL OTHER WARRANTIES, EXPRESS OR IMPLIED, INCLUDING, WITHOUT LIMITATION, ALL IMPLIED WARRANTIES OF MERCHANTABILITY AND FITNESS FOR A PARTICULAR USE OR PURPOSE, AND ANY IMPLIED WARRANTIES ARISING OUT OF COURSE OF DEALING OR PERFORMANCE OR TRADE USAGE. PURCHASER, BY ACCEPTANCE AND USE OF THIS LIMITED WARRANTY, WAIVES ANY RIGHTS IT WOULD OTHERWISE HAVE TO CLAIM OR ASSERT THAT THIS LIMITED WARRANTY FAILS OF ITS ESSENTIAL PURPOSE.
Shipping

Manufacturing lead-time from Company's receipt of the "Notice To Proceed" is approximately 6 to 8 weeks for standard structures, and 8 to 12 weeks for custom structures. Delivery is approximately 1 week thereafter. Delivery of structures may be prior to or at the start of assembly. Please note that these timelines do not include approval or permitting timeframes.
Once the item has shipped, you will receive a tracking number and important instructions for unloading. Ship dates are a best estimate and not guaranteed. Shipments can take up to 10 days in transit.
Every order with complex shipping requirements receives shipping instructions.
Unless a loading dock is readily available, this equipment ships via curbside delivery.
Cantilever systems generally benefit from having a forklift for unloading, which is typical in the industry.
There are many instances where the crates and pallets can be pulled apart by hand and unloaded as well, but a forklift is generally the quickest way to unload the product and is what trucking companies recommend to avoid possible detention charges (unloading that takes more than 3 hours).
Please see our FAQ for more information.
Talk To An Expert
Request A Quote
Share
View full details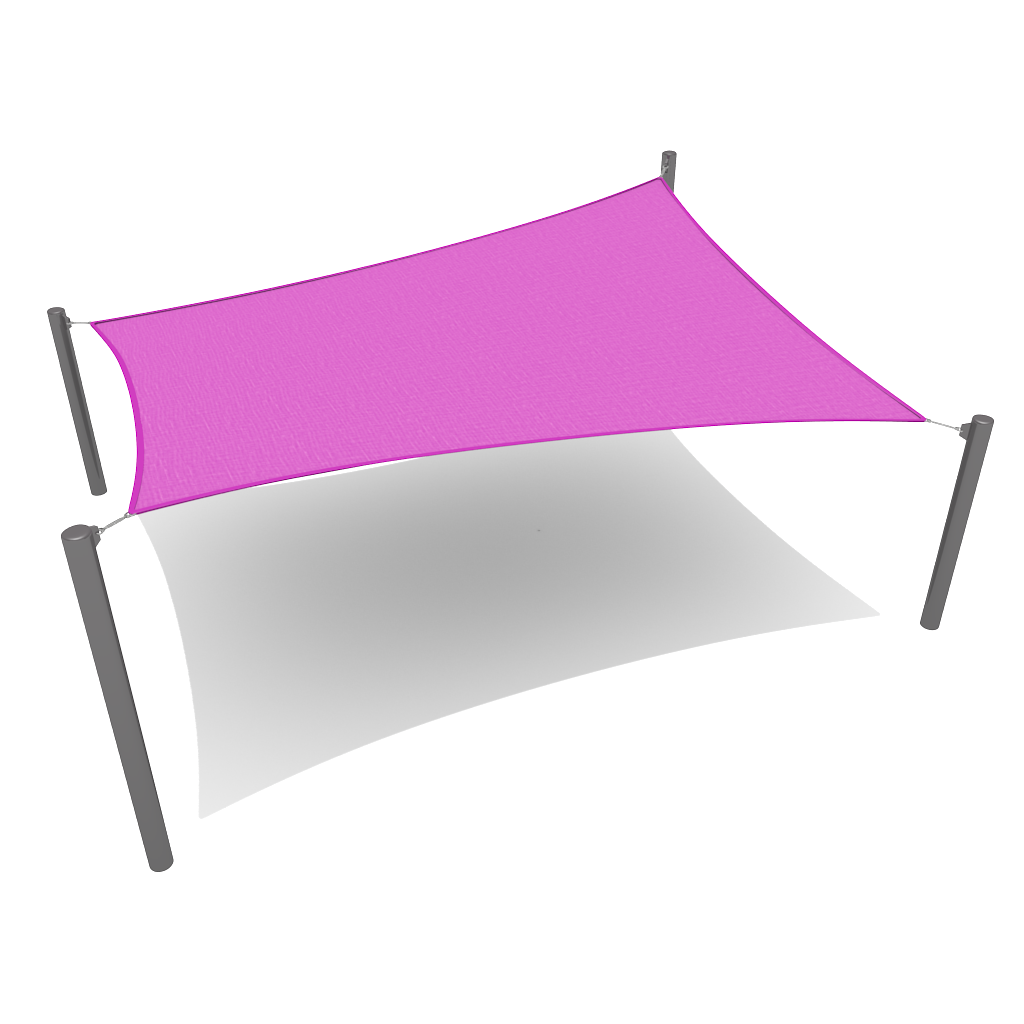 Request A Quote
Looking for a custom structure? 
Click Here to fill out our simple form.
Features and Benefits
100% Recyclable

Unlike commercial textiles such as PVC, polypropylene (PP) and polyethylene (PE) products are fully recyclable.

Storm Approved

Engineered in Australia for the harshest conditions, fabric has a minimum 45 mph wind load and a 5 PSF Snow Load.

Shrink Proof + Mold Proof

Any possibility of shrinking is virtually eliminated due to our heat set fabric process. Strong HDPE won't rot or absorb moisture.

10-Year Fabric Warranty

10-year UV degradation warranty on Gale Pacific 95 340 fabric.

Up to 98% UV Protection

UV-stabilized HDPE monofilament and tape yarn provides a UV Block range of 89.3%–98.2%.

Air Flow Channeling

Knitted lock-stitch construction for fray and tear resistance, offers more air movement and better channeling of cool breezes.
Applications
Stables

Corrals

Livestock Shade